If you are a real biker, you know what important what is count with a helmet of motorcycle appropriate. At Mototechno, we understand your needs and offer you a wide range of motorcycle helmets that combine style, safety and comfort. Discover the different guys of helmets and its characteristics so that you can choose the one that best suits you.
Integral Helmets: Total protection in every kilometer
If what you are looking for is the maximum security on the road, our full face helmets they are the perfect choice. These helmets completely cover the head and face, giving you full protection in case of impact. Furthermore, its design aerodynamic improves the stability at high speeds. At Mototechno, we have a wide variety of full-face helmets from recognized brands so that you can choose the one that best suits your needs. MATT BLACK INTEGRAL MACHINE HELMET
Modular Helmets: Flexibility for each route
For those who seek versatility and comfort, our modular helmet it's the solution. These helmets offer the ability to convert to open face helmets by flipping up the front, giving you the freedom to choose how you want to ride. Enjoy of the comfort of a full face helmet and the freshness of an open face helmet with our selection of modular helmets at Mototechno.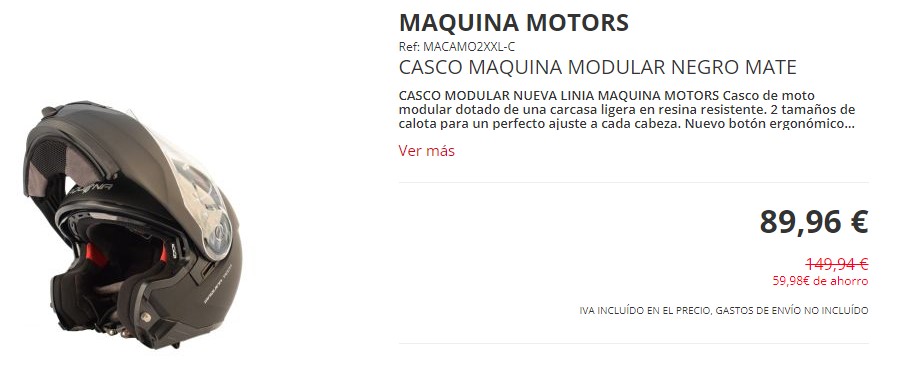 Open Helmets: Jet / Semi Jet Type
The open helmets they are ideal for those seeking a closer connection to the environment while driving. These helmets offer a greater sensation of freedom and urban style, allowing you to enjoy each journey to the fullest. At Mototechno, we have both a semi jet helmet and a jet helmet with attractive designs and high quality features.


Off-Road Helmets: Designed for off-road adventure
For those who are passionate about adrenalin and the adventure off-road, our off road helmets they are essential. These helmets are specifically designed to deal with the challenges of the land most surprising, offering you the protection and the comfort that you need in each jump and curve. Discover our selection of off-road helmets and get ready to experience unlimited emotions with the greatest safety.
See more on Motorcycle Blog.