The CFMOTO 650 MT It is the new trail bike from the Asian brand that offers great value for money. Have a twin cylinder engine online4 times, with liquid refrigeration of 649cc which offers a power of 60 hp and a torque of 54.4Nm. This engine is associated with a gearbox of 6 speed and a braking system with ABS dual channel.
The CFMOTO 650 MT has a weight in running order of 218kg. Its fuel tank has a capacity of 18 literswhich allows you to travel long distances without any inconvenience.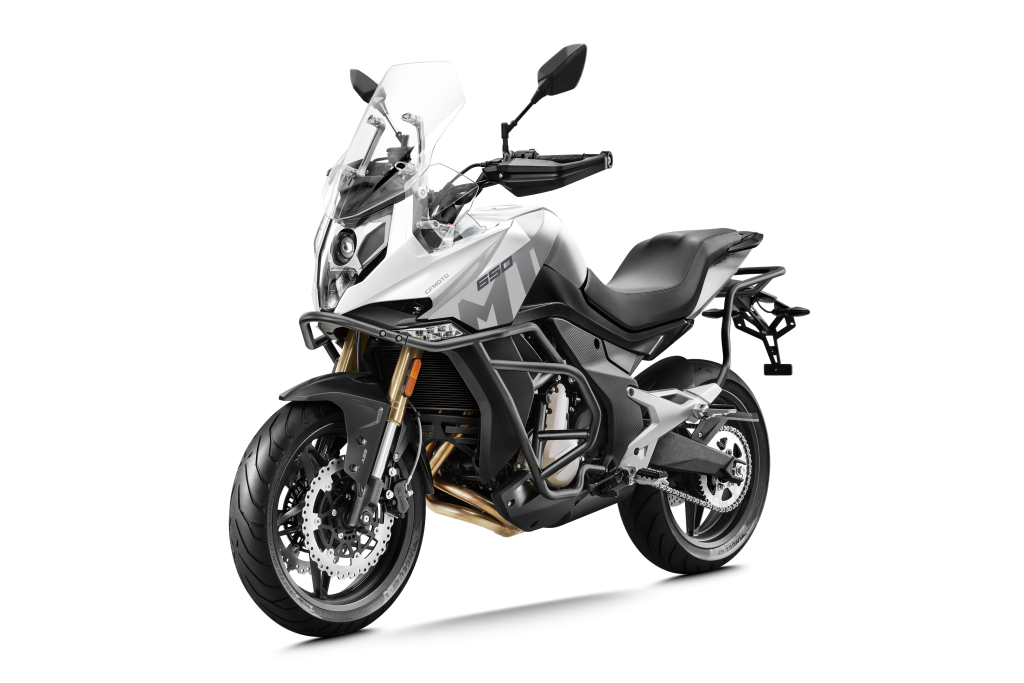 The CFMOTO 650 MT is equipped with a number of features that make it a motorcycle versatile and comfortable for daily use. Are characteristics include:
A adjustable seat in two positions 820/840mm
A wide handlebar and ergonomic, with angle of address 24.5 degrees
A cover hands and the fall protectors
A TFT screen 5″.
The CFMOTO 650 MT it is available in two colors: Athens Blue and Nebula White. His price for sale to the public is €5,999.
Data sheet
Engine: 649cc liquid-cooled, 4-stroke, inline-twin
Power: 60 hp
engine torque: 54.4Nm
Transmission: 6 speed gearbox
Brakes: dual channel ABS
Weight: 218kg
Fuel tank: 18 liters
Maximum speed: 170km/h
Specifications
Front brake: Double disc, double piston calipers J. Juan
Back brake: 1 disc, J. Juan caliper with one piston
front suspension: KYB conventional fork
rear suspension: side shock absorber
Front and rear tires: 3.5 x 17MT 4.5 x 17MT
Front tire: 120/70 ZR17 M/C Pirelli GT
rear tire:160/60 ZR17 M/C Pirelli GT
Lightning: leds
Screen: 5″ TFT
Handlebar: Wide and ergonomic
Seat: Adjustable in two positions
Conclusion
The CFMOTO 650 MT It is a great option for those looking for a trail bike versatile, comfortable and with a good relationship price quality. It has a powerful engine, a good driving position and a host of great safety features. The CFMOTO 650 MT is also relatively affordable, which makes it a great option for drivers on a budget.
See more on Motorcycle Blog.